I'm taking a break from talking about my tomato obsession to let you in on another current crush of a greener variety – broccolini. For me, baby broccoli is superior to its chunky big, older brother. The florets and stalks cook more evenly. The flavor just seems to be more concentrated.
The bonus of broccolini is you can blast it on high heat in the oven to get that magical char action that brings out extra bits of flavor. Make Blasted Broccolini in big batches for meal prep or use leftovers to chop up for breakfast, roasted veggie salads and omelets.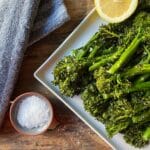 Ingredients
2 bunches of baby broccoli

2-3 tablespoons olive oil

1 teaspoon kosher salt

½ teaspoon cracked black pepper

Flaky sea salt and lemon to serve
Instructions
Preheat oven to 400 degrees F.
Rinse baby broccoli and remove any stray leafy pieces. Cut off an inch or so from the bottom of the stalks. Spread evenly on a baking sheet. Use two baking sheets, if needed, so the broccolini is spaced out.
Drizzle with olive oil and season with kosher salt and cracked black pepper. Spread back out onto the baking sheets, so they have room to breathe.
Roast in the preheated oven for 13 to 15 minutes, until black bits start to form on the florets. Use tongs to flip halfway through roasting, as desired, or just let it roast without touching it.
Sprinkle with flaky sea salt and cut lemon wedges to serve.