When I make a salmon filet, I like to ensure I'm going to have leftovers. A little baked salmon turns into salmon salad for an easy lunch or, in this case, a chunk of leftover salmon gets transformed into a Salmon Potato Hash that's packed with flavor and plenty of protein. Top it with a fried egg, and let the yolk provide a "dressing" that soaks up all of the flavors of this simple breakfast, brunch or dinner dish.
This meal comes together in less than 30 minutes and falls into the hearty Whole30 category. Feel free to add your own additions – avocado, hot sauce or salsa would all work well here.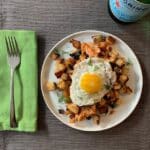 Ingredients
2 russet potatoes

6 ounces leftover baked salmon

1/2 red onion, diced

2 tablespoons avocado oil

1/2 teaspoon salt

1/2 teaspoon paprika

1/4 teaspoon garlic powder

1/4 teaspoon pepper

Fresh dill for garnish, optional
Instructions
Wash and peel 2 potatoes. Dice into 1/2-inch cubes. Rinse to remove some of the starch and dry with a paper towel.
In a large skillet over medium-high heat, warm 2 tablespoons olive oil. When oil is hot, add diced potato and onion to the pan. Stir to coat in oil and let roast, stirring occasionally, for about 10 minutes. Potatoes should be starting to crisp. Add salt, paprika, garlic powder and pepper to the skillet and stir to combine. Cook another 5 minutes, until potatoes are crisp on the outside and just cooked through.
Break up salmon into the pan and stir. Turn off heat and let the heat of the pan warm up the salmon for about 3 minutes.
Transfer salmon and potato hash to plates, top with a sunny-up egg and garnish with fresh dill (optional).
Serve.