There's a strong and direct correlation between chili and Halloween for me. The food memory is so connected that I rarely make a pot of chili without the addition of pumpkin or warm, fall spices. I remember growing up with chili being a popular dinner choice before we would put on our costumes and head out the door to gather up as much candy as we could from the neighborhood.
These days, chili often marks the changing of seasons. The first pot I make generally gets bubbling on my stovetop right around mid-to-late October.
I created this plant-based version in partnership with Meatless Farm, a mission-driven company that makes a variety of plant-based products. Their Meat Free Ground, which has 21 grams of protein in each 1-cup serving, is the perfect addition to this recipe that's naturally vegan. You'd never guess that, given how hearty it is with the addition of the Meat Free Ground.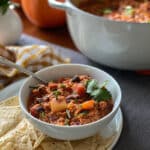 Ingredients
1 large onion, diced

1 orange bell pepper, diced

3 cloves garlic, minced

1 14.1-ounce package Meatless Farm Meat Free Ground

1 15.5-ounce can kidney beans

1 15.5-ounce can black beans

1 15-ounce can pumpkin puree (not pumpkin pie filling)

1½ cups frozen butternut squash, cubed

2 14.5-ounce cans diced tomatoes

2 cups vegetable stock

3 tablespoons chili powder

1 tablespoon ground cumin

2 teaspoons smoked paprika

1 teaspoon ground cinnamon

2 teaspoons kosher salt

1 teaspoon cracked black pepper

3 tablespoons olive oil

Cilantro, green onion, chives and other favorite toppings for garnish (optional)
Instructions
In a heavy pot or dutch oven over medium-high heat, add olive oil. Once hot, add diced onion sauté until onions are translucent, about 7 to 10 minutes.
Add diced bell pepper, minced garlic, spices and Meat Free Ground, cooking for about 3 to 5 minutes until everything just starts to brown. Reduce heat to medium.
Drain and rinse kidney beans and black beans. Add to the pot with pumpkin puree and diced butternut squash. Stir well to combine.
Add canned tomatoes (don't drain) and vegetable stock. Bring to a boil. Reduce heat to simmer, and cook for about 15 minutes.
Taste and adjust seasoning, as necessary. Serve with the garnish of your choice.